Sequence of photos of various building stages under Gallery WrightFlyer 101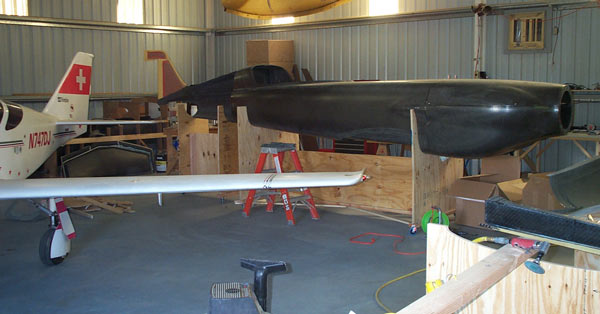 Early work stage of assembling this most advanced kit on the market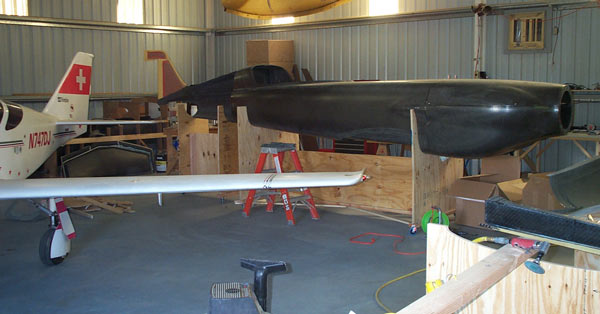 Early work stage of assembling this most advanced kit on the market

Plain fun! Joggling with money ....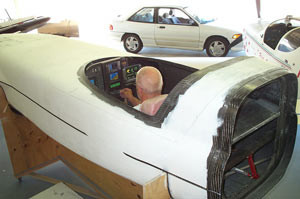 Dan now even playing with the almost virtual stuff ...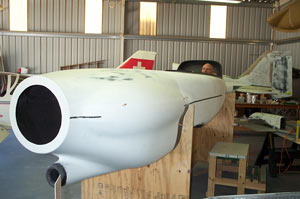 Dan lost and found ... almost like a mockup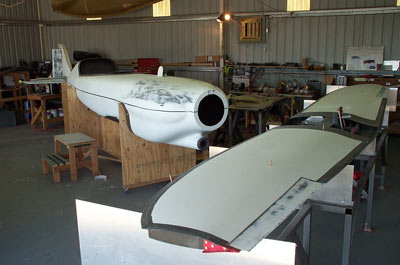 getting closer to look like a speedy bird ...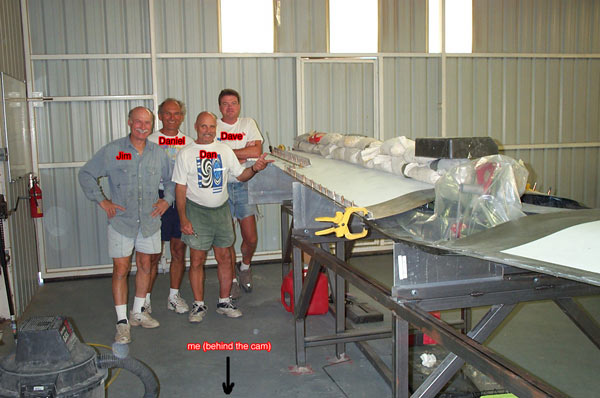 wing closing and it's skunkwork team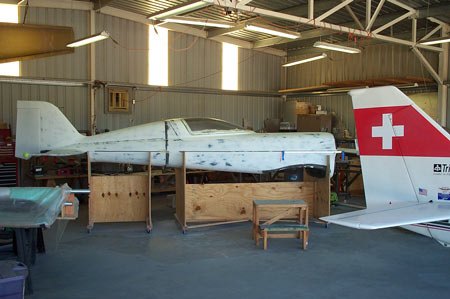 sexy lines ....beauty equals speed?????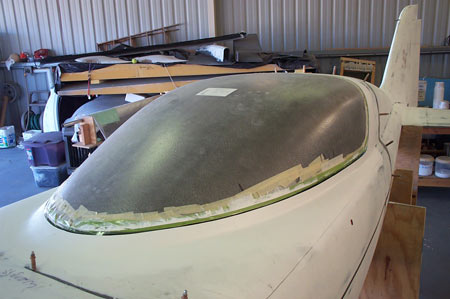 great looking smooth canopy ...
is this strong enough? poor me! - Dan the smooth operator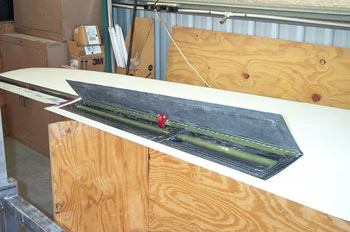 No spoilers! - flap deployed (wing upside down of course)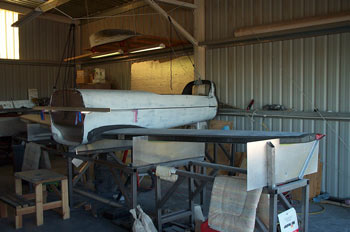 tedious wing fuselage mating procedure ...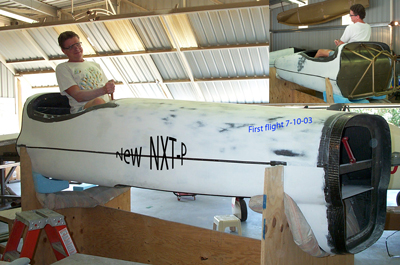 first unsuccessfull attempt to fly .... hmmm what's wrong?
... under the Mojave blue sky . Getting the sanding dust off in the breeze ...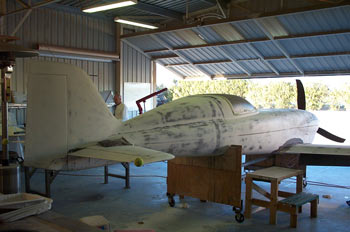 the looks of an airplane ....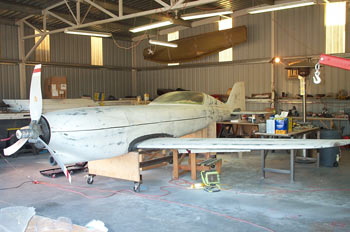 with engine and prop ..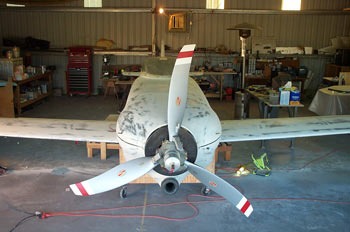 just the spinner is missing ...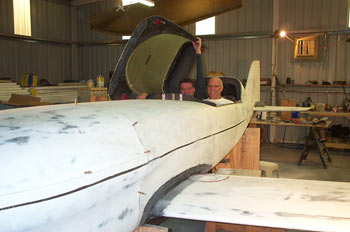 These happy fellows barly fit ...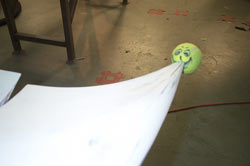 take a bite ...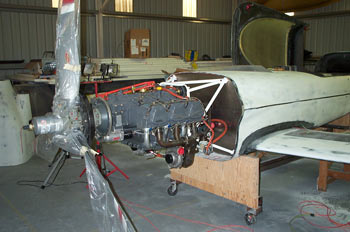 engine hanging where it belongs ..... and more installations done - even a real plenum!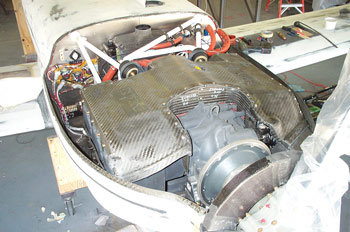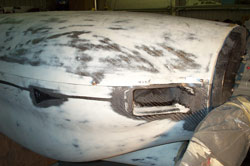 inlet scoops outside and inside ... lots of detail work!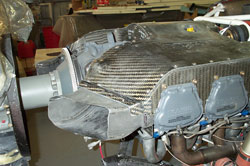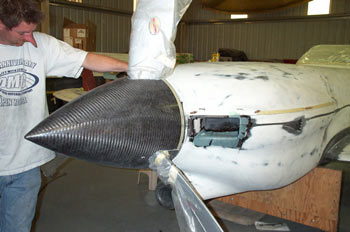 Everybody wants to have a BIIIIG nose!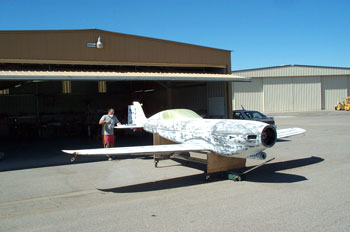 last minute preps for priming ..... and the near perfect result. Thanks for the gray whale Mike, great job!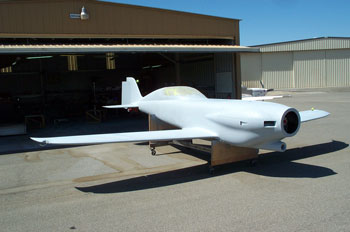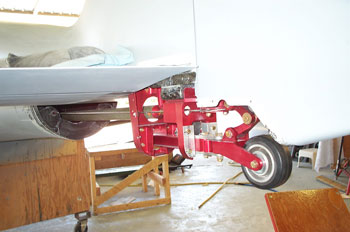 and we got a gear - you know the tiny little wheel trailing happily way back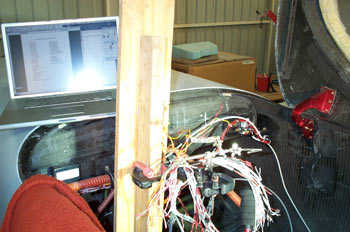 identifying & crimping 146 wires with help of Powerbook G4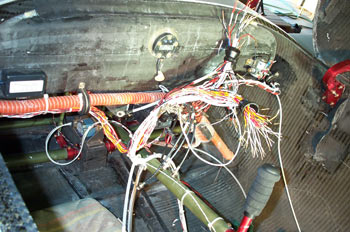 wire harnesses ready for plug & play with instrument panel ..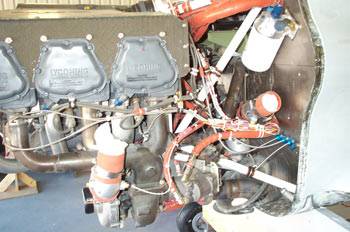 wiring firewall forward LH complete ...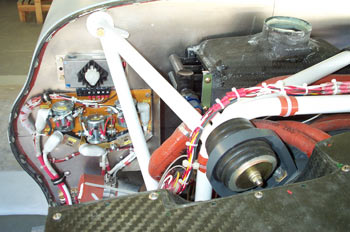 wiring firewall forward power distribution grid ...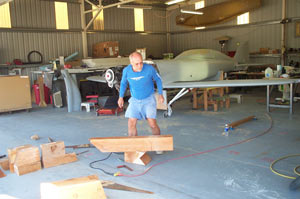 Dan is pulling all his skills as carpenter for jacking-up his Wright Flyer 101 using left-overs from his house project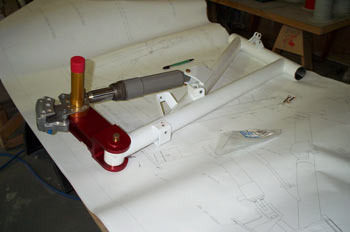 gear leg assembled and ready for installation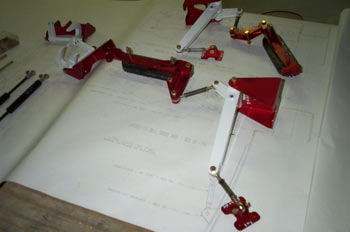 gear door and uplock machanism test-assembled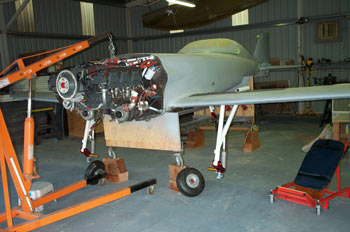 gear down and locked - almost...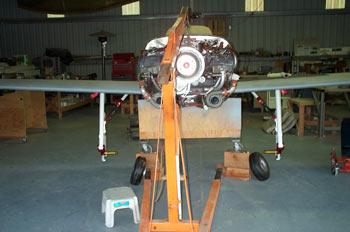 gear legs with side braces installed ...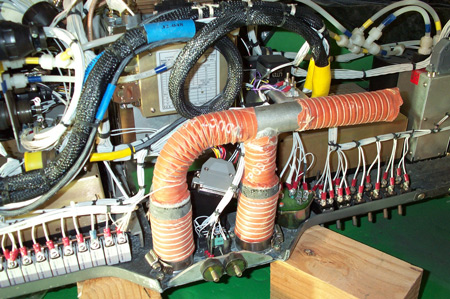 behind the instrument panel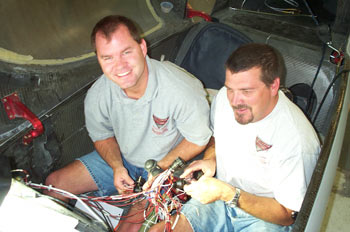 Helping hands of Mark I and Mark II of Advantage Avionics making sense of some spaghettis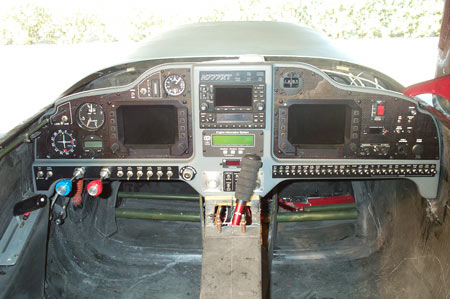 ... and here it is - waiting to be fired up. Great panel job by Advantage Avionics!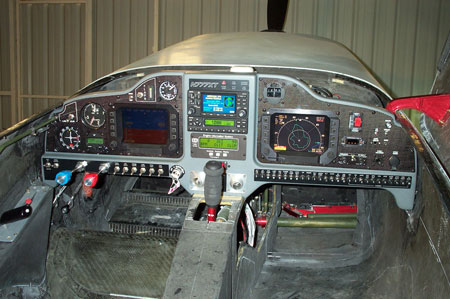 ... and the x-mas tree miraculously lights up!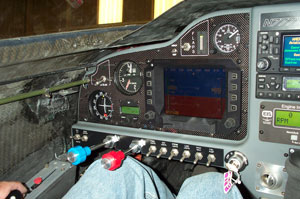 wow... just sitting at the controls and watch the light show is rewarding!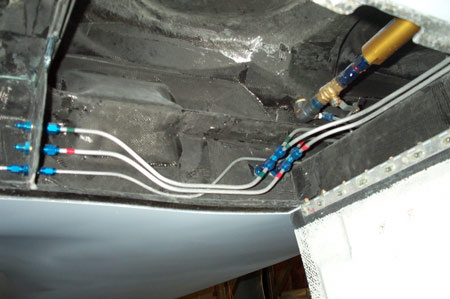 plumbing for brake and hydraulic is under way - color coding for easy identification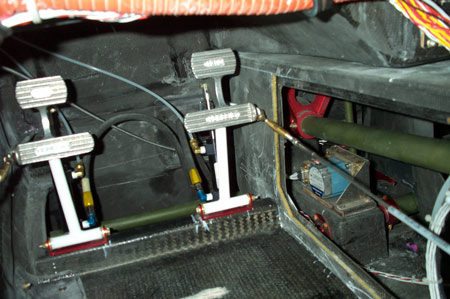 rudder and brake system for PIC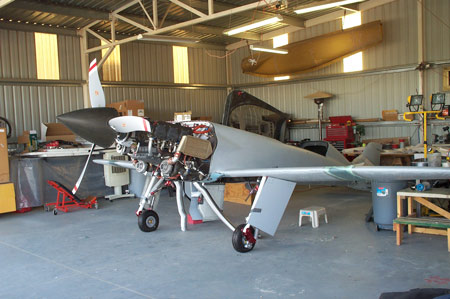 hectic times ...preparation for the first run completed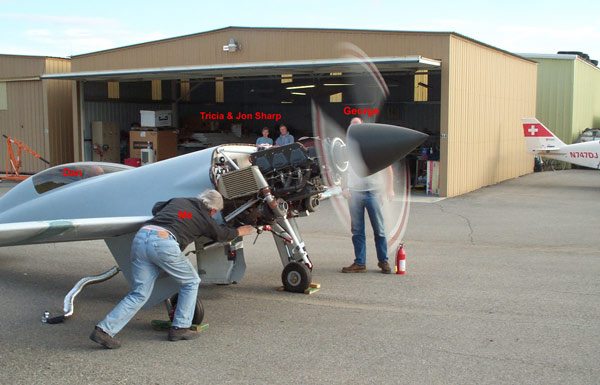 ... and here we go .. the noise is on! Argus eyes are watching. October 24, 2004
Dan on the controls, George can't get too close to the noise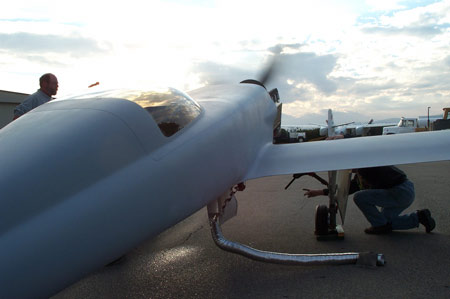 ... a smooth operator under the Mojave early evening skies...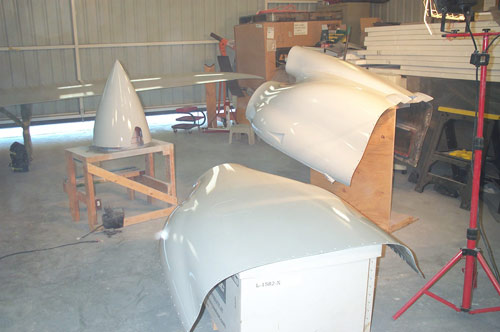 ... and a final coat of primer...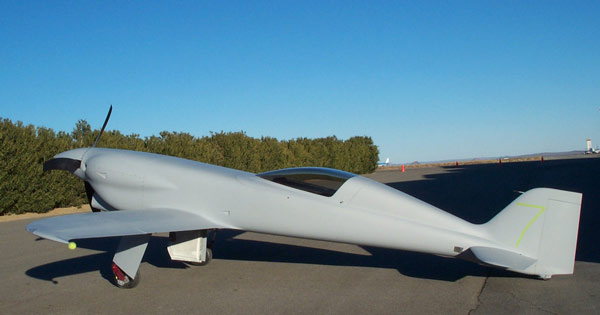 ... reay for paint - what will it look like - stay tuned.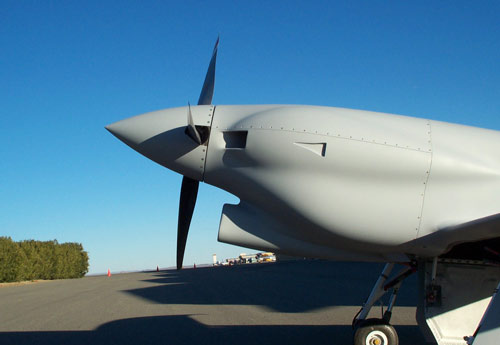 ... looks like a tight fit - well, it really is!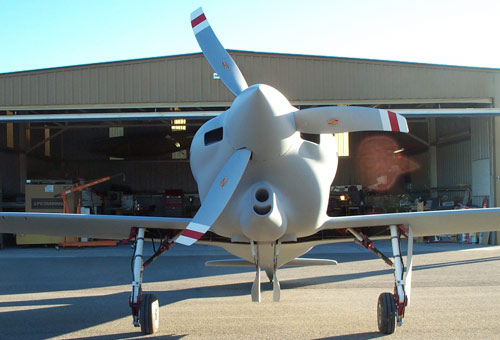 ... unfortunately, holes are needed to make this thing go fast, really fast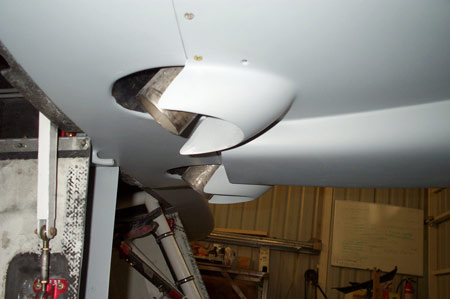 exhaust stack turbulators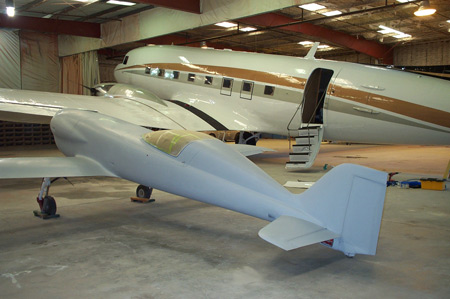 in the paint booth - but not alone!!!!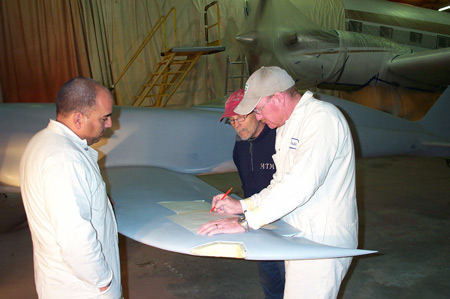 expert talk: consulting the paint process and design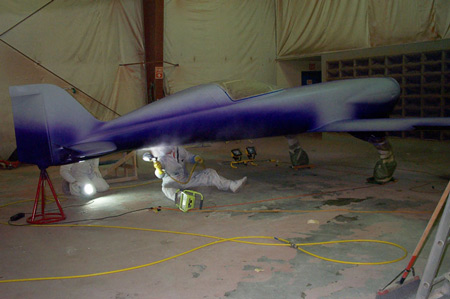 Shooting purple .....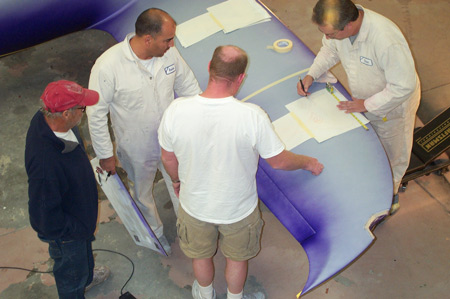 what - consulting again?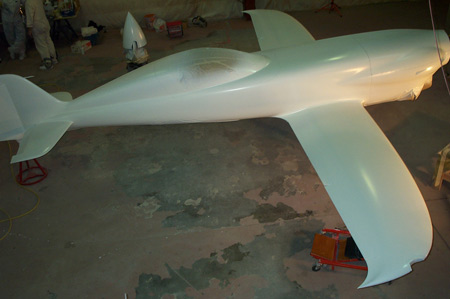 after purple comes white base ....
and now yellow base color ....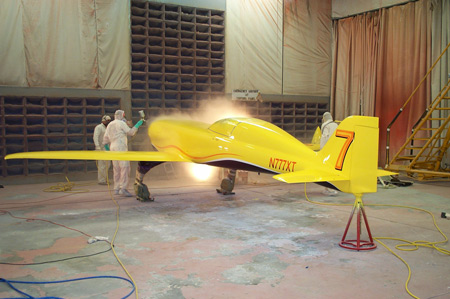 finally the clear coat is on the list of tasks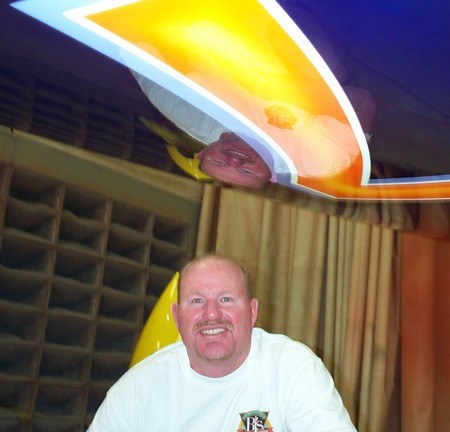 wow! Painter Mike Fowler's smile is accurately reflected in the wing ...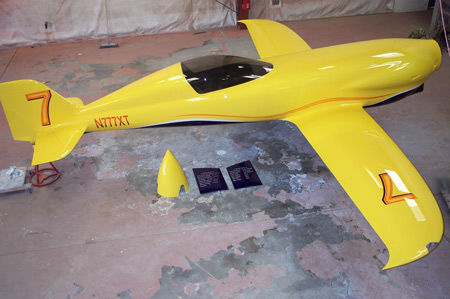 painted still in paint booth .... but soooo beautiful!
Finally! The bird is painted 1-16-2005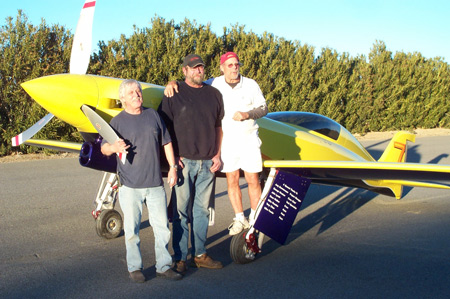 Some great buddies - Dan,George & Jurg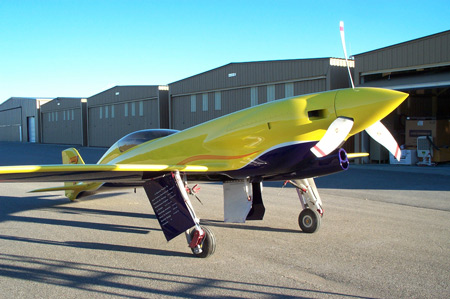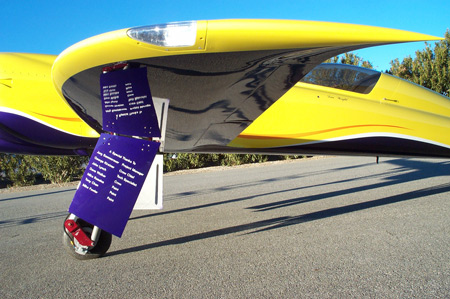 N777XT-painted-reflections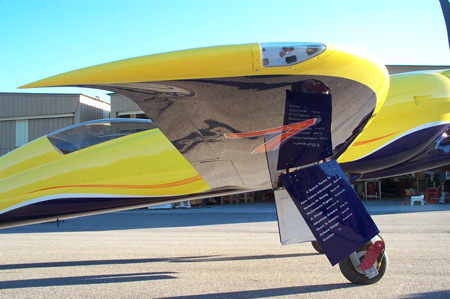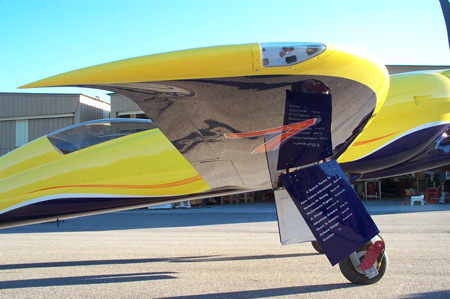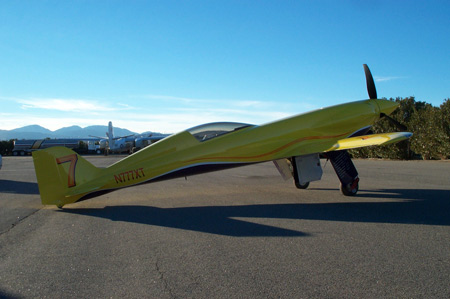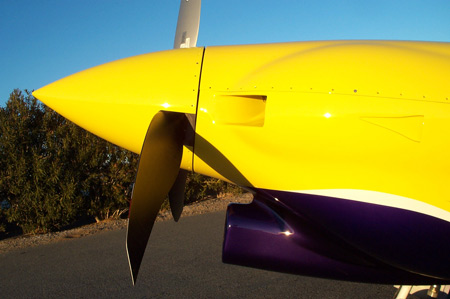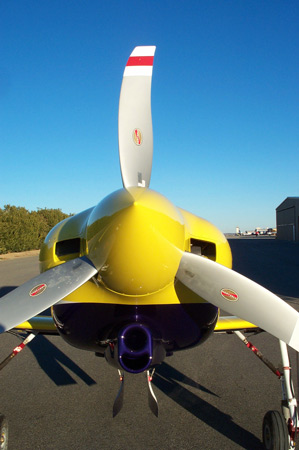 spectacular-toy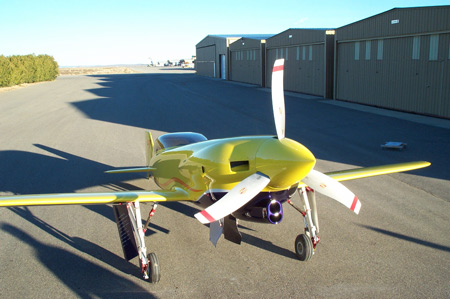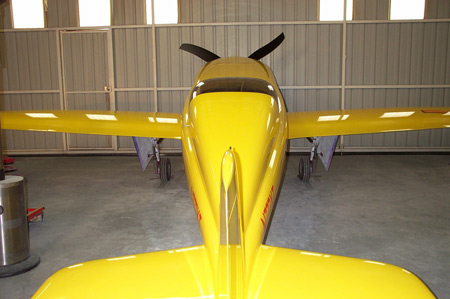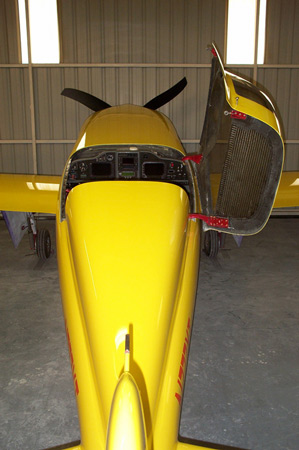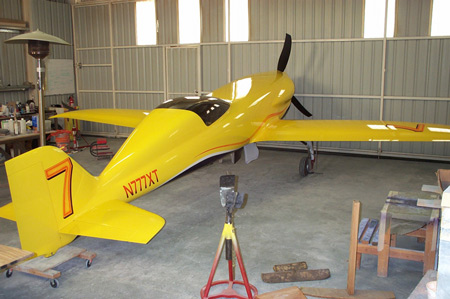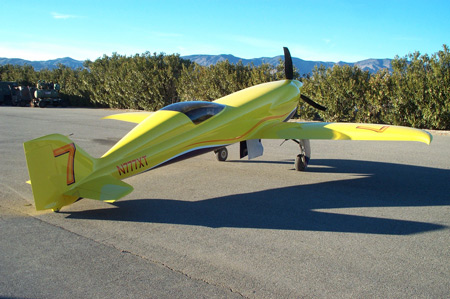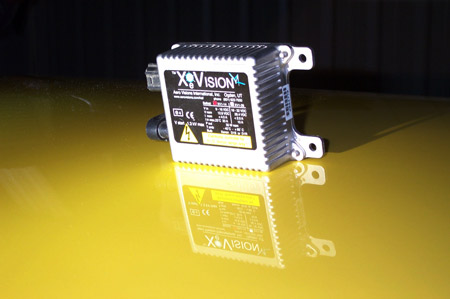 XeVision ad on the mirror-like wing ... thanks Dan for this cool real estate!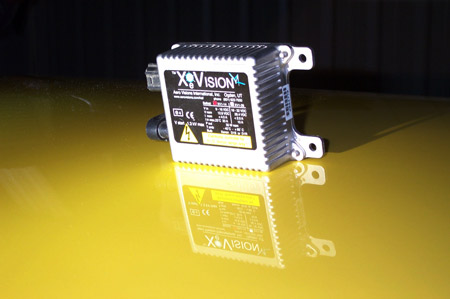 Almost a perfect wing surface .... even a simple water bottle does the trick!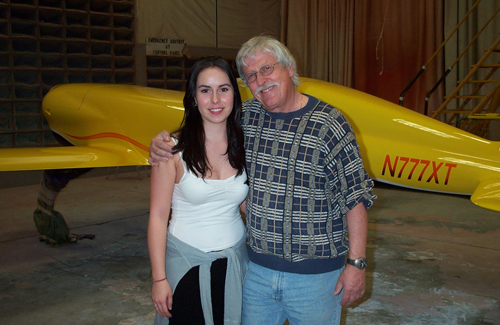 saying good bye to the so important support crew members in Mojave ...
Next the first untethered move on three wheels!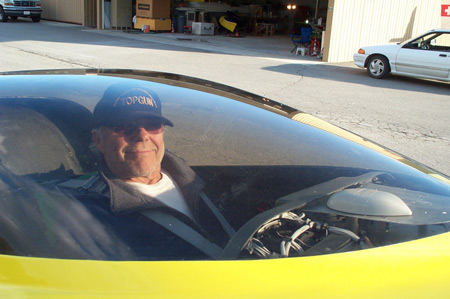 Nice to see Dan happy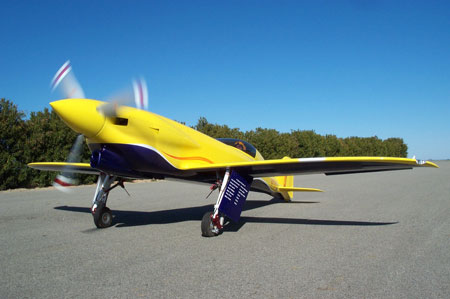 Taxying all dressed up - 3-6-05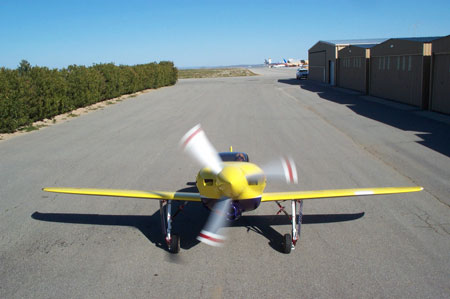 Looks like the Wright Flyer 101 is ready for takeoff - well ,not quite yet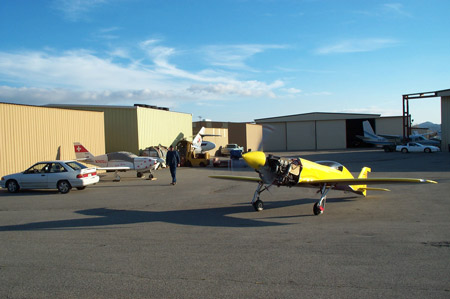 First anxious moves under supervision of big ol' George and me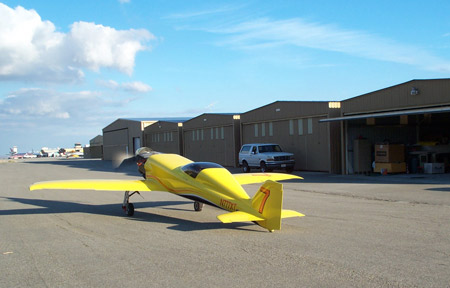 .... and off Dan goes looking for prey ...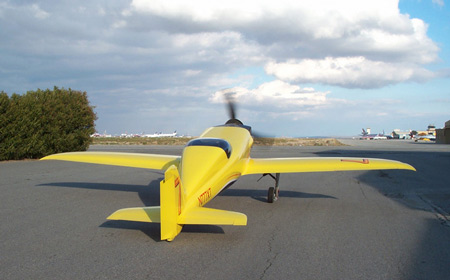 ..... fishtailing and extremely cautious!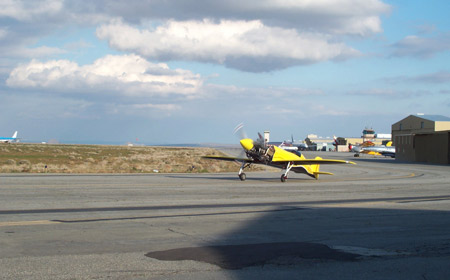 Wow! That far Dan? Looks like he is ready to drive to Santa Barbara!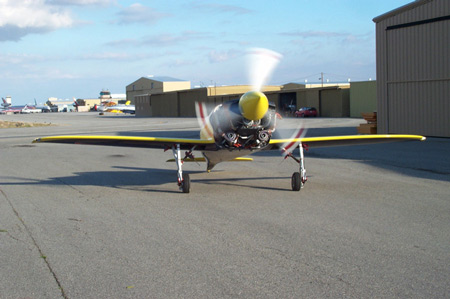 Coming back from a first untethered run-up - so cool! Great job Dan!
Now we are anxious to experience the first airborne moves!

Just hold on .....
First flight successfully accomplished on May 3, 2005
First Gear retraction successfully accomplished on May 8, 2005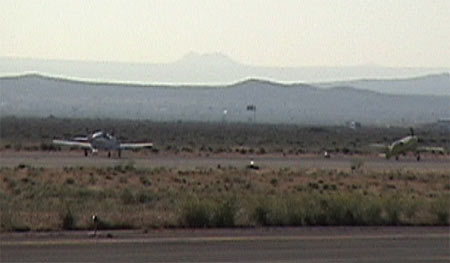 The Wright Flyer 101, followed by the Pink Baron for an airborne pick-up
.... and the Wright Flyer 101 on its first flight on May 3, 2005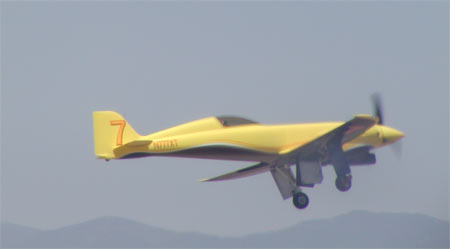 flying the test program - now with all gear doors mounted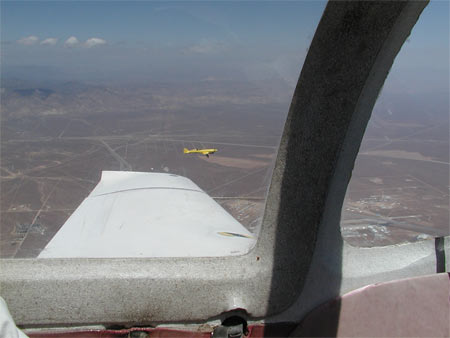 gear going up - except tail wheel still showing a 'green light' ...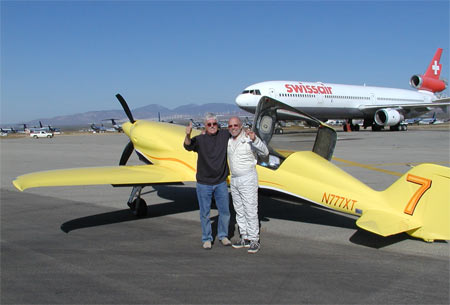 After the first flight: The friendship remains strong - Wright Flyer 101, Dan and Jurg ... and by the way: This is in Mojave CA ...
Big weekend April 9, 2005: gear operation
Dan hold on! The main gear just vanished somewhere ....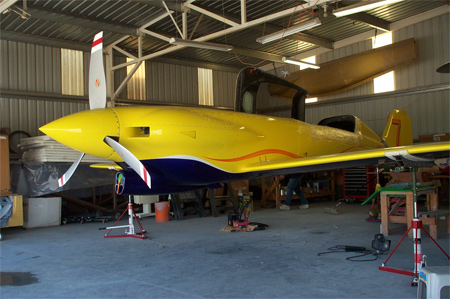 Well, the main gear is up and locked! Looks so sexy!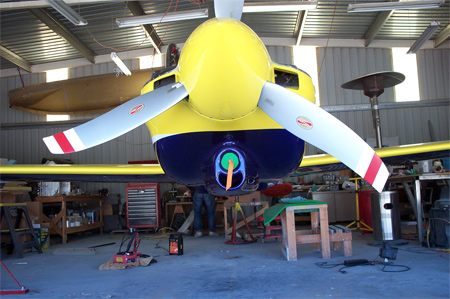 uhh, so slick without the draggy main gear ...
Big weekend April 10, 2005: 
FAA inspection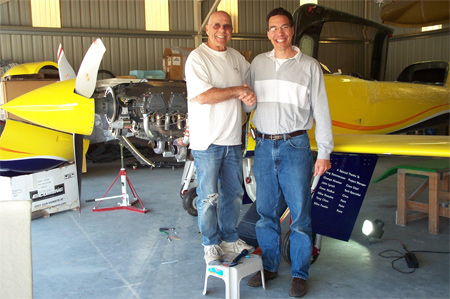 The FAA designated examiner, DAR Adam Valdez declares N777XT airworthy!!!!
First flight successfully accomplished on May 3, 2005
ok, then Dan was flying, and flying, until a small mishap ....
with necessity of rebuilding the WrightFlyer101 ... just see below: